The Heart Farming is an exergame that uses so called mobile Augmented Reality (AR) motion. The game is distributed via Google Play (for android) and AppStore (for iOS). The game can be played both indoors and outdoors and stimulates players to be physically active, either by walking or sit to stand movements tracked by AR mobile technology. The game is built around a theme farming that gives the players a simulated experience of managing a farm and have some fun at the same time. Farm games are popular, since they are visual and players can grow new crop, they can be goal-oriented, and players can set individual goals without feeling any pressure.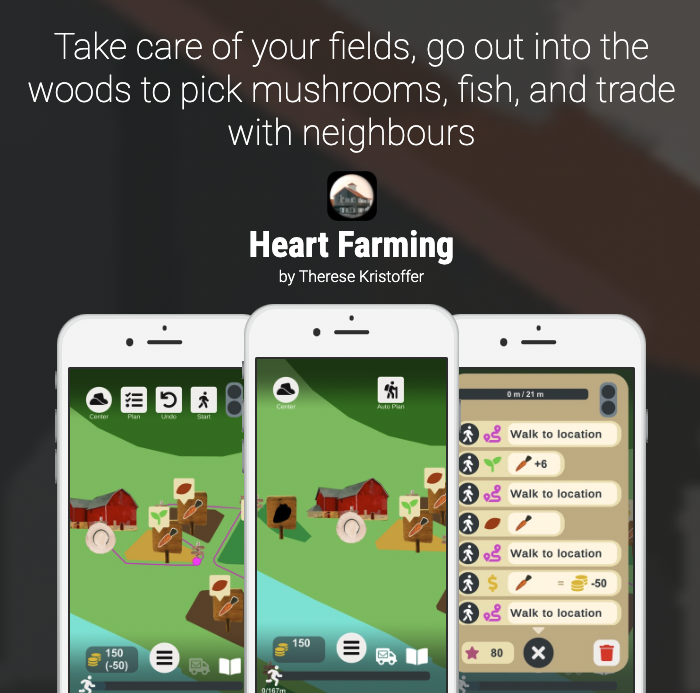 App store description
Take care of your fields, go out into the woods to pick mushrooms, fish, and trade with neighbours.

Heart Farming allows you to manage your farm. You plan activities in the game and go in the real world to perform them. Collect and unlock new fields, resources, and levels to become the best Farmer in town!

You can play Heart Farming anytime, anywhere… You can walk indoors or outdoors. You do not have to look at the screen when you walk. However, the phone's camera must see so you can not put the phone in the pocket completely.

The game is developed and used in a research study about physical activity conducted via Linköping University in Sweden. Heart farming uses mobile AR to measures your physical movement distance (anonymized). The game available in English, Swedish.
You can download the game for free here.